Upcoming Events

2021


See EVENTS dropdown for event photos...
ASBA Maritime Education

ASBA offers industry leading courses and seminars that give participants in or want to be in the maritime field a broad and comprehensive understanding of the industry.



ASBA Certified/FQS Agents

Recognize the value of "Quality" providers by appointing ASBA Certified Member Agents.

- ASBA Certified Agents Raise the Bar - See Video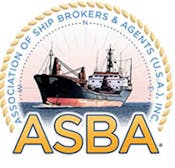 Established in 1934, ASBA brings together member Ship Brokers, Agents and Affiliates with offices in the US and Canada. Read more...